IncUpdate for Windows developers
The lastest version : 3.3.8, update date: Sep 4, 2021, see what's new
IncUpdate is firstly released on March 2004. And it has more than 5,000 customers around world.
Download IncUpdate
Purchase IncUpdate
Software development has grown increasingly complex. Maybe you want to apply your mind to develop the key features of your software but your customers want more. Friendly installation and expediently update from web anytime, etc.
If you don't want to spend more time and money, or engage more programmers to implement these tools, IncUpdate can help you.
IncUpdate is the tool that helps you to add a professional web based updating system to your software product in 10 minutes and you don't need to write a single line of code. As it is a developer tool, not a framework-based component, you can use it no matter what programming language you are using. It can be used for any Windows-based software product.
Supports platform: All Win32 platforms.
See the snapshots of the update process, click here.
See the snapshots of the builder tool, click here.
Key features
Key features of the builder
Project based management, you can create one project file for one of your software product. Set the basic information of the product once.
Binary interface, building and release, no any source code modification is necessary.
Language-independent, any software based on Windows can use it.
Powerful options for updater.
Supports command line.
Supports to update web page files (*added in v3)
Supports to update installation package builder's script (*added in v3)
Automatic FTP uploading.
Supports all web servers.
Intuitive user interface and easy to use.
Supports Windows 2000/XP/Vista/7/8/8.1/10 and any version of Windows Server.
Key features of the updater
Royalty-free distribution of the client.
Professional user interface without adding a single line of code.
Supports skinned interface, all skins for SUISkin are available.
Supports multilingal interface.
Incremental update. IncUpdate only downloads and updates the non-lastest version files.
Generate the update patch automatically and "on the fly".
Supports multi-servers for update.
Supports local license check interface.
Supports proxy.
Supports update log.
Supports self-update.
Supports silent update.
Supports to perform custom actions before and/or after updates.
Supports to use custom wizard images.
Based on HTTP protocal.
Supports Windows 2000/XP/Vista/7/8/8.1/10 and any version of Windows Server.
How it works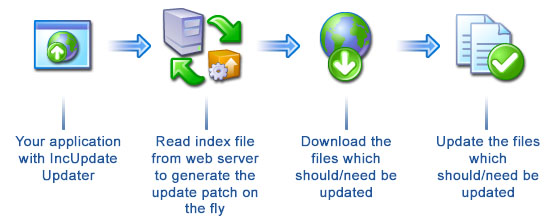 IncUpdate assumes all files on the server are up to date. It will not check the version numbers since not all files have a version number property. If a file on local is not same as the one on
server, then it will be updated.
What customers say
You are doing an AWESOME job. I am just amazed at how quickly you were able to turn-around and fix some of the minor issues I had reported within such a short amount of time. The customer service I have received from you is outstanding! Keep up the excellent work.
— Andrew from Nikiware, Inc.

You have create a fantastic application to update an application. I was at first a little sceptic about "Create an Update-Handling in ten minutes", but you have done all to make it easy for a small developer. — from Rolf

Wanted to let you know that I have found your product to be extremely useful to me as a developer. In the throes of finishing and releasing a set of new products, there are always a few last minute changes that have to be made, and unfortunately, by the time they are found, it is difficult to get the latest version out to a group of people that may or may not have registered and gotten on the mailing list. Your product (IncUpdate) has freed my time from answering support calls and allowed me to concentrate on getting the problems fixed. Turn-around time is basically two minutes, just finish testing, build the final release, and run your program. Then post on the web that a new release is available. I have had some problems with the program (MS XML got corrupted on my development machine) and you have provided excellent support.
— from Barry D. Brown, Data Management Company
How to purchase
Registered user can get:
Free email supports
Lifetime free upgrades, you don't need to purchase it for all upgrades
Free distribute the updater(update.exe) with your products
To purchase IncUpdate, please click here.
Click here to read the License Agreement.